Subject: Lyr Add: MACPHERSON'S LAMENT/RANT/FAREWELL
From: Joe Offer
Date: 20 May 17 - 03:04 AM

Here is the Traditional Ballad Index entry on this song:

MacPherson's Lament
DESCRIPTION: MacPherson tells how a woman betrayed him to the Laird o' Grant. He challenges all to a duel in defense of his honor. He breaks his fiddle, "the only friend I hae," rather than see it in bad hands. A rider is coming to reprieve him, so he is hanged early
AUTHOR: unknown
EARLIEST DATE: 1803 (_Scots Musical Museum_ #114)
KEYWORDS: execution betrayal reprieve fiddle outlaw
HISTORICAL REFERENCES:
Nov 16, 1700 - Execution of James MacPherson
FOUND IN: Britain(Scotland(Aber))
REFERENCES (12 citations):
Whitelaw-Song, pp. 346-347, "Macpherson's Farewell" (1 text)
GreigDuncan3 697, "MacPherson's Rant" (6 texts, 6 tunes)
Kennedy 348, "MacPherson's Lament" (1 text, 1 tune)
Ord, pp. 443, "M'Pherson's Farewell" (1 text)
MacSeegTrav 88, "Macpherson's Farewell" (1 text, 1 tune)
Flanders-Ancient3, pp. 163-169, "Mary Hamilton" (2 texts plus a fragment, with the "C" fragment containing parts of "MacPherson's Lament"; 3 tunes; the tune for the "MacPherson" portion is not given)
Silber-FSWB, p. 205, "MacPherson's Farewell" (1 text)
DT, MACPHER* MACPHER2* MCPHERST
ADDITIONAL: James Kinsley, editor, Burns: Complete Poems and Songs (shorter edition, Oxford, 1969) #196,, pp. 306-307, "McPherson's Farewell" (1 text, 1 tune, from 1788)
Robert Chambers, The Scottish Songs (Edinburgh, 1829), Vol I, pp. 83-85, "MacPherson's Farewell"
James Johnson, Editor, _The Scots Musical Museum_ [1853 edition], volume II, #114, p. 117 "McPherson's Farewell" (1 text, 1 tune)
Kenneth Norman MacDonald, "The Gesto Collection of Highland Music," 1895 (reprinted 1997 by Llanerch Publishers), p. 107, "MacPherson's Lament" (1 tune, presumably this)
ST K348 (Full)
Roud #2160
RECORDINGS:
Jimmy MacBeath, "MacPherson's Lament" (on Lomax43, LomaxCD1743)
Davie Stewart, "MacPherson's Rant" (on Voice08)
CROSS-REFERENCES:
cf. "MacPherson's Rant" (subject)
ALTERNATE TITLES:
MacPherson
NOTES: Legends about MacPherson's death are many. The basic one has it that he played this tune before his death and offered the fiddle to anyone who could play it back for him. None could, so he broke the fiddle rather than leave it in incompetent hands. The (ruins of) the instrument are now said to be in the MacPherson clan museum in Inverness-shire.
That MacPherson was a freebooter seems almost certain -- but only spite could have hung him for his deeds; most of Scotland was the same way!
The earliest reported version of this piece seems to have been Burns's, but (given the variations), it seems certain that several traditional forms are older. - RBW
Chambers: "The old ballad, for which Burns substituted the above beautiful verses, is given in continuation, from Herd's Collection of Scottish Songs [1776]."
If there's an argument to be made for lumping "MacPherson's Lament" and "MacPherson's Rant" it might be GreigDuncan3 697A and 697B, which mix verses of both. I think splitting them is the way to go.
Whitelaw-Song is Burns's "Farewell, ye dungeons dark and strong" which Dick has from Scots Musical Museum, 1788, No. 114 (James C Dick, The Songs of Robert Burns (London: Henry Frowde, 1903 ("Digitized by Microsoft")), #311 pp. 292-293). - BS
Last updated in version 3.2
File: K348
---
Go to the Ballad Search form
Go to the Ballad Index Song List
Go to the Ballad Index Instructions
Go to the Ballad Index Bibliography or Discography
The Ballad Index Copyright 2016 by Robert B. Waltz and David G. Engle.

---

And the Digital Tradition lyrics:

MACPHERSON'S FAREWELL

Fareweel, ye dungeons dark and strong,
Fareweel, Fareweel tae thee.
MacPherson's time will nae be lang
On yonder gallows tree.

CHO: Sae rantin'ly, sae wantonly
Sae dauntin'ly gaed he
He played a tune and danced it roon'
Below the gallows tree.

'Twas by a woman's treacherous hand
That I was condemned to dee.
Below a ledge at a window she stood
And a blanket she threw o'er me.

The Laird o' Grant, that hieland sant
That first laid hands on me,
He played the cause on Peter Broon
Tae let MacPherson free.

Untie these bands frae off my hands
And gie to me my sword.
There's no' a man in all Scotland
But I'll brave him at a word.

There's some come here tae see me hanged
And some to buy my fiddle.
But before I do part wi' her
I'll brak her thro' the middle.

He took the fiddle in both of his hands
And he broke it o'er a stone.
Says,"There's nae ither hand shall play on thee
When I am dead and gone."

O little did my mother think
When first she cradled me,
That I would turn a rovin' boy
And die on the gallows tree.

The reprieve was comin' o'er the brig o' Banf
Tae let MacPherson free,
But they pit the clock a quarter before
And hanged him tae the tree.

@outlaw @death @music
see also MACPHER2
filename[ MACPHER
TUNE FILE: MACPHER
CLICK TO PLAY
RG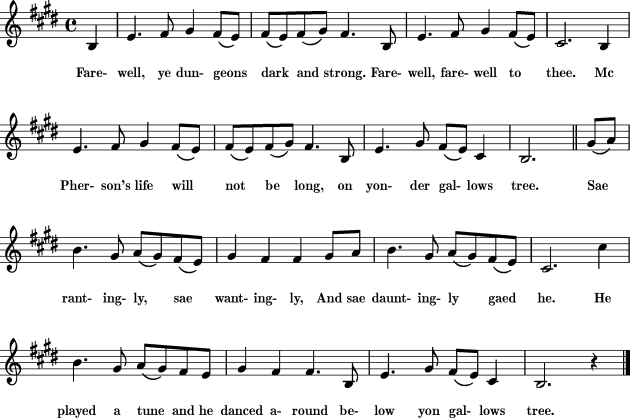 ---
MCPHERSON'S LAMENT

My father was a gentleman,
Of fame and honor high,
Oh mother, would you ne'er had borne
The son so doom'd to die.

chorus- Sae rantingly, sae wantonly,
Sae dauntingly gaed he;
He play'd a spring (sprig), and danc'd it round (a jig)
Below the gallows-tree.

I've spent my life in rioting,
Debauch'd my health and strength,
I squander'd fast, as pillage came,
And fell to shame at length.

Farewell, yon dungeons dark and strong,
The wretch's destinie!
M'Pherson's time will not be long
On yonder gallows-tree.

O what is breath but parting breath?
On many a bloody plain
I've dar'd his face, and in this place
I'll scorn him yet again.

But vengeance I never did wreak,
When pow'r was in my hand,
And you, dear friends, no vengeance seek,
It is my last command.

Forgive the man whose rage betray'd
MacPherson's worthless life;
When I am gone, be it not said,
My legacy was strife.

He took his fiddle in both his hands
And he broke it all a stone,
Saying there's nae a han' shall ply on thee
When I am dead and gone.

Now farewell light, thou sunshine bright,
And all beneath the sky!
May coward shame disdain his name,
The wretch that dares not die!

O reprieve was coming o the Brig o' Dans
for tae set MacPherson free,
For they set the clock a quarter before
And they hanged him from a tree.


@outlaw @death @music
recorded by Jeannie Robertson on Heather and Glen
filename[ MACPHER2
AJS