Subject: Origins: Bring us in Good Ale
From: Joe Offer
Date: 18 Dec 19 - 12:43 AM

Here is the Traditional Ballad Index entry for this song:
Bring Us Good Ale
DESCRIPTION: The singer, "for our blessed Lady's sake," demands that the server "Bring us in good ale." Other foods are rejected (e.g. "Bring us in no brown bread, for that is made of bran, And bring us in no white bread, for therein is no gain.")
AUTHOR: unknown
EARLIEST DATE: c. 1475 (Oxford, MS. Bodl. 29734)
KEYWORDS: food drink nonballad
FOUND IN: Britain
REFERENCES (10 citations):
Stevick-100MEL 82, "(Bryng Us in Good Ale)" (1 text)
Rickert, p. 245, "Bring us in Good Ale" (1 text)
Chappell/Wooldridge I, pp. 30-31, "Nowell, Nowell" (1 tune, with a fragment of this text appended)
DT, BRINGALE*
ADDITIONAL: Richard Greene, editor, _A Selection of English Carols_, Clarendon Mdieval and Tudor Series, Oxford/Clarendon Press, 1962, #88, pp. 154-155, "(Bryng us in good ale, and bryng us in good ale)" (1 text)
Celia and Kenneth Sisam, _The Oxford Book of Medieval English Verse_, Oxford University Press, 1970; corrected edition 1973, #222, p. 482, "Bring us in Good Ale" (1 text)
Reginald Nettel, _Seven Centuries of Popular Song_, Phoenix House, 1956, pp. 31-32, "(no title)" (1 text)
Walter de la Mare, _Come Hither_, revised edition, 1928; #72, "Bring Us In Good Ale" (1 text)
Brown/Robbins, _Index of Middle English Verse_, #549
Digital Index of Middle English Verse #893
NOTES [129 words]: This is another song that cannot be demonstrated to have circulated in oral tradition. Its prevalence in the printed collections (starting with Ritson and Gammer Gurton's Garland), however, argues for its inclusion here -- especially as there are two distinct Middle English texts, from Bodleian MS. Eng. poet e. 1 and British Library MS. Harley 541.
According to RIckert, one of the manuscripts contains a note which seems to say that this is sung to the same tune as a carol which begins, "Nowel, nowell, nowell, This is the salutation of the angel Gabriel." For this tune, see Chappell/Wooldridge. However, Nettel, p 31, says that the association of text and tune is due to a bookbinding mistake, and that the carol and drinking song do not even fit the same melody. - RBW
Last updated in version 4.2
File: MEL82
---
Go to the Ballad Search form
Go to the Ballad Index Song List
Go to the Ballad Index Instructions
Go to the Ballad Index Bibliography or Discography
The Ballad Index Copyright 2019 by Robert B. Waltz and David G. Engle.
---
Here are the lyrics and tune from the Digital Tradition. They are an exact transcription from William Chappell's Popular Music of the Olden Time, Volume 1, page 42-43.
---
BRING US GOOD ALE (DT Lyrics)

Chorus:
Bring us in good ale, good ale, and bring us in good ale,
For our blessed Lady's sake, bring us in good ale.

Bring us in no brown bread, for that is made of bran,
Nor bring us in no white bread, for therein is no grain,
But bring, etc.

Bring us in no beef, for there is many bones,
But bring us in good ale, for that go'th down at once.
And bring, etc.

Bring us in no bacon, for that is passing fat,
But bring us in good ale, and give us enough of that.
And bring, etc.

Bring us in no mutton, for that is passing lean,
Nor bring us in no tripes, for they be seldom clean.
But bring, etc.

Bring us in no eggs, for there are many shells,
But bring us in good ale, and give us nothing else.
But bring, etc.

Bring us in no butter, for therein are many hairs,
Nor bring us in no pig's flesh for that will make us bears. (boars???)
But bring, etc.

Bring us in no puddings, for therein is all God's good,
Nor bring us in no venison, that is not for our blood.
But bring, etc.

Bring us in no capon's flesh, for that is often dear,
Nor bring us in no duck's flesh, for they slobber in the mere (mire)
But bring, etc.

From Chapell, Popular Music of the Olden Time
Song from about 1460.
Recorded by Hart & Prior on Summer Solstice
@drink @food
filename[ BRINGALE
TUNE FILE: BRINGALE
CLICK TO PLAY
RG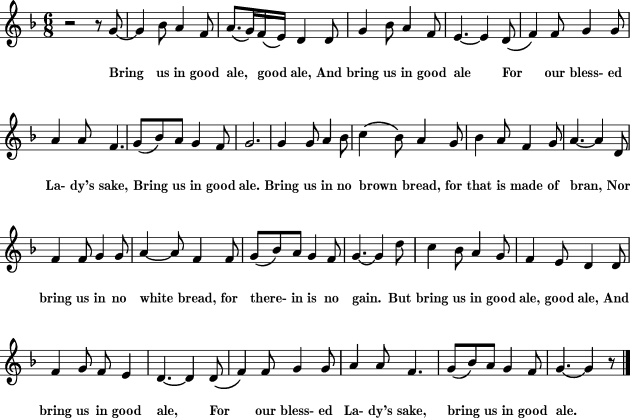 Here is the recording by Tim Hart and Maddy Prior. The melody seems to be the same as what's in Chappell and the Digital Tradition:



And here's The Young Tradition: https://www.youtube.com/watch?v=VmRkBZyy5CM