Subject: RE: Origins: Mistletoe Belle? / Mistletoe Bough
From: Joe Offer
Date: 29 Sep 18 - 09:19 PM

Here's the Traditional Ballad Index entry on this song:
Mistletoe Bough, The
DESCRIPTION: In the castle, beneath the mistletoe bough, the lord's daughter prepares to wed young Lovell. The girl, tired of dancing, decides to hide and have Lovell find her. He never does. Years later, her body is found "in a living tomb," trapped in a chest
AUTHOR: Thomas Haynes Bayly?
EARLIEST DATE: 1855 (National Temperance Songster)
KEYWORDS: love marriage game hiding death Christmas
FOUND IN: Britain(England(Lond,South)) US(MA,MW,ro,So)
REFERENCES (12 citations):
Williams-Wiltshire-WSRO Mi 637, "Mistletoe Bough" (1 text)
Roud/Bishop-NewPenguinBookOfEnglishFolkSongs #126, "The Mistletoe Bough" (1 text, 1 tune)
Randolph 802, "The Mistletoe Bough" (1 text, 1 tune)
Randolph/Cohen-OzarkFolksongs-Abridged, pp. 466-468, "The Mistletoe Bough" (1 text, 1 tune -- Randolph's 802)
Peters-FolkSongsOutOfWisconsin, pp. 223-224, "The Mistletoe Bough" (1 text, 1 tune)
Stout-FolkloreFromIowa 31, "The Mistletoe Bough" (1 text plus a text of "Ginevra," for which see the NOTES)
Hubbard-BalladsAndSongsFromUtah, #35, "The Mistletoe Bough" (1 text, 1 tune)
Jolly-Miller-Songster-5thEd, #72, "The Mistletow Bough" (1 text)
Wolf-AmericanSongSheets, #1723, p. 116, "The Old Oak Chest, or The Missletoe Bough" (sic.) (2 references)
cf. Gardner/Chickering-BalladsAndSongsOfSouthernMichigan, p. 481, "The Mistletoe Bough" (source notes only)
DT, MISTLETO*
ADDITIONAL: Michael R. Turner, _Victorian Parlour Poetry: An Annotated Anthology_, 1967, 1969 (page references are to the 1992 Dover edition), pp. 220-221, "The Misteltoe Bough" (1 text)
Roud #2336
BROADSIDES:
Bodleian, Harding B 11(2462), "The Mistletoe Bough," J. Harness (Preston), 1840-1866; also Harding B 15(204b), "Mistletoe Bough," H. Disley (London), 1860-1883 (partly illegible); Harding B 11(2464), "Mistetoe Bough," H. Such (London), 1863-1885
SAME TUNE:
The Vorkhouse Boy ("The cloth was laid in the vorkhouse hall") (Grigson-PenguinBookOfBallads 102; Henderson-VictorianStreetBallads, p. 42, "The Workhouse Boy"; cf. broadside Bodleian Firth c. 16(311), unknown, no date; a parody in "Dutch" dialect of this song, with very similar lyrics except that the girl is transformed to a boy in a poorhouse; Roud #29495)
Billy Jenkins, or The two houses of parliament (parody per broadside Harding B 11(2462), which also contains the original)
Hail to Old Tippecanoe ("Van Buren sits in his marble hall") (Lawrence-MusicForPatriotsPoliticiansAndPresidents, p. 276)
The Greeley Pill, Mixed at Cincinnati and taken at Baltimore, July 19, 1872 ("There was an old doctor who wore a white hat; He made pills of Free Love and Free Farms and all that") (Lawrence-MusicForPatriotsPoliticiansAndPresidents, p. 456)
The Chinaman's Fate ("The cradles were rocking one fine summer's day, And the diggers were busily puddling away") (by Charles R. Thatcher, in "Thatcher's Colonial Songster") (Thatcher-ColonialMinstrel-Songsters, p. 72; Anderson/Thatcher-GoldDiggersSongbook, pp. 79-80)
NOTES [656 words]: Underwood, pp. 22-23, reports this of Bramshill House near Basingstoke in Hampshire: "An ancient chest in the panelled gallery is said to have been the 'death bed' of a young bride who died on the eve of her wedding." Her ghost is reported to have walked.
Probably unrelated, but a garbled version might perhaps have inspired this song. The legend was certainly widespread; Alexander, pp. 195-196, reports versions of the story from Maxwell Hall, Owslebury, Hampshire; Brockdish Hall, Norfolk; Minster Lovell hall, Oxfordshire (a place with a lot of other legends going back to the Wars of the Roses), and of course Bramshill, but Alexander thinks Maxwell Hall the original because it, in his account, has the ghost known as the Mistletoe Bride. Boase, p. 80, also lists Maxwell Hall as the place most associated with the legend and mentions the "Mistletoe Bride" title -- but points out on p. 81 that the ghost seen at Maxwell Hall could also be Anne Boleyn, who was held there before her execution.
On the other hand, Westwood/Simpson, p. 591, give particular attention to Minster Lovell, where there was a legend that, during a restoration, a walled-off room was located in which a dead body was found. This obviously sounds rather like this legend -- although most think the body was that of Francis, Lord Lovell, a close associate of King Richard III who fought at the Battle of Stoke in 1487 and, with his side having been defeated, was never seen again.
Hadlow, pp. 23-24, quotes a similar story told by Horace Walpole of the body of Count Konigsmark, the lover of Sophia Dorothea the wife of George I of England, who was made to disappear.
Alternately, the tale might come from the same roots as "Ginevra," by Samuel Rogers (1763-1855), which has the same story though the bride is Italian and the poem is set in Italy. I do not know the exact date of "Ginevra," but it is part of his massive multi-volume poem "Italy," published 1822-1828 and reissued in revised form in 1830, so his piece probably predates "The Mistletoe Bough."
Westwood/Simpson, p. 303, say that Rogers was working from the legend of "The Mistletoe Bride," i.e. the same legend as this song.
The final stanza of "Ginevra," as quoted in HouseholdTreasury, pp. 133-135, is as follows (the whole poem "Italy" is apparently in blank verse):
Full fifty years were past, and all forgot,
When, on an idle day, a day of search
'Mid the old lumber in the Gallery,
That mouldering chest was notices; and 'twas said
By one as young, as thoughtless as Ginevra,
"Why not remove it from its lurking-place?"
'Twas done as soon as said; but on the way
It burst, it fell; and lo! a skeleton,
With here and there a pearl, an emerald-stone,
A golden clasp, clasping a shred of gold.
All else had perished, -- save a nuptial ring,
And a small seal, her mother's legacy,
Engraven with a name, the name of both,
"GINEVRA."
There, then, she had found a grave.
Within that chest she had concealed herself,
Fluttering with joy, the happiest of the happy;
When a spring lock, that lay in ambush there,
Fastened her down for ever!
Incidentally, NewCentury, entry on "Ginevra," say that this story was told of several English castles.
And, no, I have no idea, Harry Potter fans, if it is significant that Ginny Weasley's real name was Ginevra!
Leach, p. 278, claims that "The Hunting of the Snark," Lewis Carroll's greatest work other than the Alice books, uses this song as a "leitmotif"; Turner, p. 221, also speculates that this might have inspired the method of hunting a snark, "They sought it with thimbles, they sought it with care...." But although Leach et al claim that a theme in "The Mistletoe Bough" is the origin of one of Carroll's stanzas, the only words they have in common are "They sought." And Leach is full of speculations in the absence of evidence (often in direct defiance of evidence). So I don't think we need pay that particular hypothesis much attention. - RBW
Bibliography
Alexander: Marc Alexander, A Companion to the Folklore, Myths & Customs of Britain, Sutton Publishing, 2002
Boase: Wendy Boase, The Folklore of Hampshire and the Isle of Wight, Rowman and Littlefield, 1976
Hadlow: Janice Hadlow, A Royal Experiment: The Private Life of King George III, Henry Holt, 2014 (published in Britain by William Collins as The Strangest Family)
HouseholdTreasury: [no author listed], The Household Treasury of English Song, T. Nelson and Sons, 1872
Leach: Karoline Leach, In the Shadow of the Dreamchild: The Myth and Reality of Lewis Carroll, second edition, Peter Owen Books, 2009 (first edition published 1999 as In the Shadow of the Dreamchild: A New Understanding of Lewis Carroll)
NewCentury: Clarence L. Barnhart with William D. Haley, editors, The New Century Handbook of English Literature, revised edition, Meredith Publishing, 1967
Underwood; Peter Underwood: Gazetteer of British, Scottish & Irish Ghosts, originally published as two volumes, A gazetteer of British Ghosts (1971?) and A gazeteer of Scottish and Irish Ghosts (1973?); although the two volumes still have separate title pages, the 1985 Bell edition I use has continuous pagination and a single index
Westwood/Simpson: Jennifer Westwood and Jacqueline Simpson, The Lore of the Land: A Guide to England's Legends, from Spring-Heeled Jack to the Witches of Warboys, 2005 (I use the 2006 Penguin paperback edition)
Last updated in version 6.0
File: R802
---
Go to the Ballad Search form
Go to the Ballad Index Song List
Go to the Ballad Index Instructions
Go to the Ballad Index Bibliography or Discography
The Ballad Index Copyright 2021 by Robert B. Waltz and David G. Engle.
---
And here are the Digital Tradition lyrics:

MISTLETOE BOUGH

(G) C G C / F G7 C / C G C / F G7 C

The mistletoe hung in the castle hall;
The holly branch shone on the old oak wall.
The Baron's retainers were blithe and gay,
Keeping the Christmas holiday.

The Baron beheld with a father's pride
His beautiful child, Lord Lovell's bride.
And she, with her bright eyes seemed to be
The star of that goodly company.

F G7 C

Oh, the mistletoe bough.

"I'm weary of dancing, now," she cried;
"Here, tarry a moment, I'll hide, I'll hide,
And, Lovell, be sure you're the first to trace
The clue to my secret hiding place."

Away she ran, and her friends began
Each tower to search and each nook to scan.
And young Lovell cried, "Oh, where do you hide?
I'm lonesome without you, my own fair bride."

Oh, the mistletoe bough.

They sought her that night, they sought her next day,
They sought her in vain when a week passed away.
In the highest, the lowest, the loneliest spot,
Young Lovell sought wildly, but found her not.

The years passed by and their brief at last
Was told as a sorrowful tale long past.
When Lovell appeared, all the children cried,
"See the old man weeps for his fairy bride."
Oh, the mistletoe bough.

At length, an old chest that had long laid hid
Was found in the castle; they raised the lid.
A skeleton form lay mouldering there
In the bridal wreath of that lady fair.

How sad the day when in sportive jest
She hid from her lord in the old oak chest,
It closed with a spring and a dreadful doom,
And the bride lay clasped in a living tomb.

Oh, the mistletoe bough.

Published in "Ozark Folksongs" by Randolph and other folk music
collections. It is credited to Thomas Haynes Bayley, who also
wrote "Long Long Ago," and dates back to the early 19th century.

Stately, delicate, and positively creepy.
Recorded by Joan Sprung on "Pictures To My Mind," FSI-73, 1980
@seasonal @death
filename[ MISTLETO
TUNE FILE: MISTLETO
CLICK TO PLAY
DC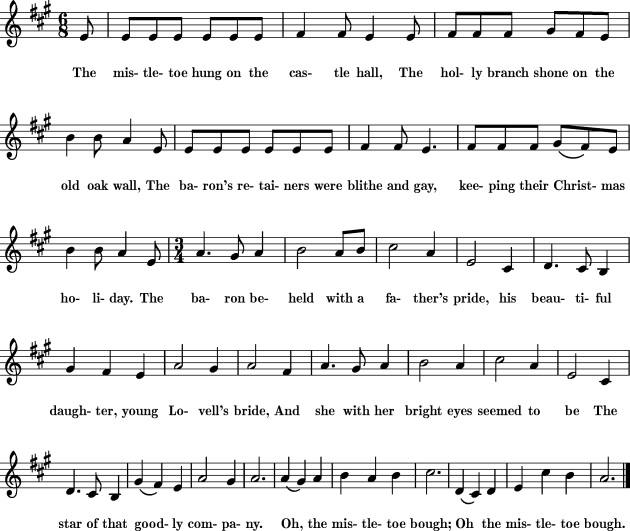 ---

Here's the Steeleye Span recording: https://www.youtube.com/watch?v=sTM7fZNxLiY
Steeleye Span lyrics from Mainly Norfolk: https://mainlynorfolk.info/steeleye.span/songs/mistletoebough.html